Oklahoma SDA Handgun License Class
This is the class for your Oklahoma Concealed/Open Carry License
This class covers Oklahoma Law, Deadly Force issues, Safety, Shooting Fundamentals, Handgun Operation, and Ammunition. It is an abbreviated "basic" class for handguns with an emphasis on Safety. The class has a 15-question test that you must past at 70% and a 50-round course of fire that you must pass to receive your class certificate. The certificate can then be submitted with your Handgun License application to the Sheriff's Office of the County in which you live. This course meets all training requirements in accordance with Title 21 Section 1290.1 known as the "Oklahoma Self Defense Act." You must be 21 to receive your Oklahoma Handgun license, but you can still take the class and your completion certificate is good for three years.
Class Cost — $70
The State removed the set costs for the class so instructors may charge a fair market value. At this time, I am staying close to the old price structure. If you qualify for an exemption from the "Live Fire Familiarization" you only pay $40. Other pricing may exist, so download the registration form for details. Download the Class Registration Form. You may mail with payment to the Contact addres or you may reserve your place in the class by signing up at Lux Firearms (about a 1/4 mile east of Loves off I-35 exit 211 on Fountain Road). Check the Schedule for upcoming class dates.

The class portion may be taken by anyone interested in learning more about Oklahoma handgun carry laws. Also anyone with a current handgun carry license may take the class to get an update on current laws and regulations or just for a review. See the registration form.
Class Content
• General Firearm Safety
• Fundamentals of Handgun Shooting
• Correct Position for Firing a Handgun
• Correct Presentation for the Handgun
• Loading and Unloading Techniques
• Clearing Malfunctions
• Dynamics of Ammunition and Firing a Handgun
• Provisions of Oklahoma Laws Relating to Self-Defense
• Provisions of Oklahoma Self Defense Act
• Open Carry and Concealed Carry
• A Dry-Fire Practice Session
• Live Fire Familiarization Course
Class Length
• Oklahoma Law TItle 21 Section 1290 indicates that the class should be conducted "within an 8-hour period." Oklahoma CLEET has interpreted this to mean that about 6 hours should be spent on classroom time and 2 hours for range time.
• I have found that it takes pretty close to the 6-hour period to adequently cover the outline of information that CLEET supplies for the class. Range time will vary depending on the number of people in the class. I have found that many students have more questions and want more information than we can cover in the 6-hour period, so I have offerend a new class "Fundamentals of Carry" for additional information.
• While there are some instructors offering "abreviated" or short classes, I feel this is "short-changing" the student, if not down-right dishonest, by not fully covering the material CLEET has provided.


General Requirements
• Make sure you arrive in class and on the range on time. Tardiness will result in canceling your class time.
• The instructor may remove anyone from the class at any time for improper attitude or a safety violation in handling a firearm.
• Your firearm must be safe and in good operating condition. All firearms will be inspected. If a firearm is deemed unsafe, you will not be allowed to qualify with that firearm.
• Maximum caliber allowed is .45. Minimum caliber is .22. If you qualify with a semi-auto, you will receive endorsement to carry semi-auto, revolver, and derringer. If you qualify with a revolver, you will not be able to carry a semi-auto. If you qualify with a derringer, you will only be allowed to carry a derringer.
• It is highly recommended you qualify with a semi-auto to prevent having to re-qualify at a later date should you desire to carry a semi-auto. If you do not have a semi-auto pistol, rentals are available for $30, including ammunition. It is not advisable to purchase a handgun for the class if you have never owned a handgun before and especially if you have never fired a handgun prior to this class—rent one from the instructor.
• Students must score 70% (11 of 15) on the written exam. If you fail, you will not be allowed to advance to the range portion of the class.
• Dress appropriately for weather conditions, as the live fire course will be held outside. The only time weather would cancel the range portion of the class is if the instructor deems it unsafe such as during severe lightning or storms or if it is too rainy.
• Pistol rental is available from the instructor.

Equipment Requirements
•Your Pistol. Your pistol must be safety inspected by the instructor.
• 50 Rounds of New Factory Loaded Ammunition. No reloads or handloads will be permitted. Ammunition will be provided for all rented pistols.
• Do NOT bring ammunition into the classroom at any time
• Hearing and Eye Protection
• A Brimmed Baseball style cap or a brimmed hat
• Valid Oklahoma I.D.
• Pen/Pencil and notepad

Recommended Prerequisite
If you have had little or no shooting experience with a pistol it is recommended that you take the NRA First Steps Pistol Orientation Course.
It is recommended that you follow up this class with the NRA Basic Pistol Shooting Course and NRA Basic Personal Protection in the Home.

Support/Join NRA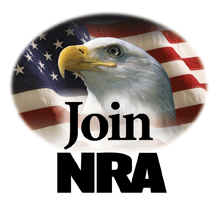 Click HERE to save $10 when you Join, Renew, or Add a year!
Or Join NRA at any class.